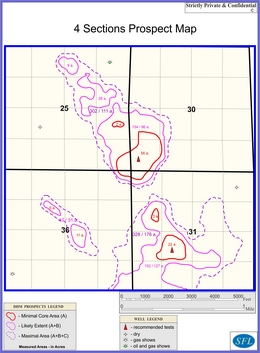 DHM in the Powder River Basin - New Products:
Scotforth is now making available for the first time standalone DHM prospectivity reports and maps for the Powder River Basin.
Scotforth has been surveying the Rocky Mountain foreland basins over the past five years with good success, seeing known fields and identifying numerous new low risk prospects. Our downloadable PRB Technical Brief gives a more expansive overview of DHM in the basin.
In a coverage of as much as 25,000 square miles of Wyoming and southern Montana these bring innovative examination of the further oil and gas potential of the region. Technical and commercial flexibility is being offered to suit a wide range of interests in the basin – from those of small Independents and close-in "step-out" proven play prospectors through to "frontier petroleum system" under-explored Play Fairway explorers. 
This PRB DHM Prospectivity Map Series is arranged by standard Township, Range and Section land areas. Items can be purchased in multiple packages ranging from single Section coverage through partial to full Township coverage and then to multi-Township areas. Their aim is to increase industry prospect drilling success here from its historic 11% to more than 65% and to cut out ineffective test well locations.
The prospectivity reports contain:
DHM Prospectivity Map*
Summary Prospect Inventory Table
IPD and RBU Imagery Set
NAIP Figure or GDEM Image
Summary Exploration Discussion
* Maps and figures will be presented at visual enlargement scale to suit ordered area of coverage. Reports will be delivered in pdf format with Georeferenced map files available if requested.
These maps and reports provide an excellent starting point for acreage selection, exploration focussing and determination of effective well test locations on high ranking prospects. They will be delivered in one of two categories:
New coverage surveys undertaken upon acceptance of order or
Existing coverage, pre-identified prospect study areas.
Delivery times for Reports with up to one Township of cover will typically be within thirty days of receipt of order payment. Larger orders will be given specific schedules.
The Reports are priced competitively, starting from as low as $1,500 for non-exclusive one Section coverage, to more than $40,000 for large coverage 12 month exclusive products. Unit prices range between $500 per square mile and $350 per square mile, dependent on the number of sections ordered.  This aims to encourage incisive new leasing and prospect development programs over high confidence, low risk prospects.
Ordering Reports is a simple process of defined request, offer quotation and formal acceptance and payment.  A proforma Order request form is available here. The whole process should normally take less than eight working days.
For some sub-areas, higher priced fully integrated DHM - conventional prospect reports are available, developed in close liaison with a highly experienced successful PRB independent exploration geologist. For these, the integrated prospectivity findings of the twin DHM – Well Shows analysis offers the lowest risk pre-drill opportunities in the more mature parts of the basin.
Simply for illustration purposes, an example DHM prospectivity interpretation for a prospective Four Section area is shown below.  It identifies two significant prospects  and one weaker lead area. The prospects both extend across more than a half Section, are undrilled and display good high spectral intensity core areas suited for first well tests, one in swsw S30 and the other in nesw S31. The rest of the area is poorly prospective with four pre-existing D&As on it and can be essentially discarded or dropped from further plans and investments.
To request a report please get in touch via This email address is being protected from spambots. You need JavaScript enabled to view it. or complete an order form.