Scotforth Exploration Surveys
The Scotforth DHM Survey Series
Scotforth's standalone "Direct Hydrocarbon Mapping" ("DHM") prospectivity surveys are used to high-grade lands in terms of the presence, absence, frequency, size and quality of spectral anomaly "Hydrocarbon Lead Indicators" or "HLIs" as determined from RSDD-H based satellite imagery processing of suitable data in any given region / or survey area.  These DHM mapping products can be readily integrated and/or considered against standing petroleum geology and conventional geophysical surveying data (Conventional Lead Indicators or "CLIs") to enhance overall exploration performance.
This commercial DHM "Survey Series" ranges in scope, purpose and usage as follows: 
a) Conventional DHM Prospectivity Survey Reports:
Standalone Scotforth HLI-based prospectivity evaluation reports of client-specified target acreages - existing licence blocks and/or possible new venture areas.
These are often delivered under exclusive usage terms and conditions. However from time to time Scotforth may provide multi-client survey reports where it has initiated the process and pre-determined the survey area.
Typical Prospectivity Survey Reports range from regional reconnaissance surveys of large exploration districts/basins (30,000+km2) through licence block assessments (typically 5-25,000km2) to high resolution (pre-drill) prospect surveys (100+ km2). Associated maps may be; 1:500,000, 1:200,000 or 1:50,000 scale, depending on survey type. Each survey type has its merits for the purpose in hand.
Reports include:
-       the "Map" of HLI anomalies (graded features)
-       a description of the Survey
-       tabulation of the mapped "prospect inventory" or "PI"
-       a "gallery" of illustrative processed and analysed RSDD-H anomalies in the Survey Area
-       text discussion of results
-       modelled exploration risk and petroleum resource potential ("PRP") profiles of the PI (dependent on the resolution of the survey,)
-       exploration recommendations.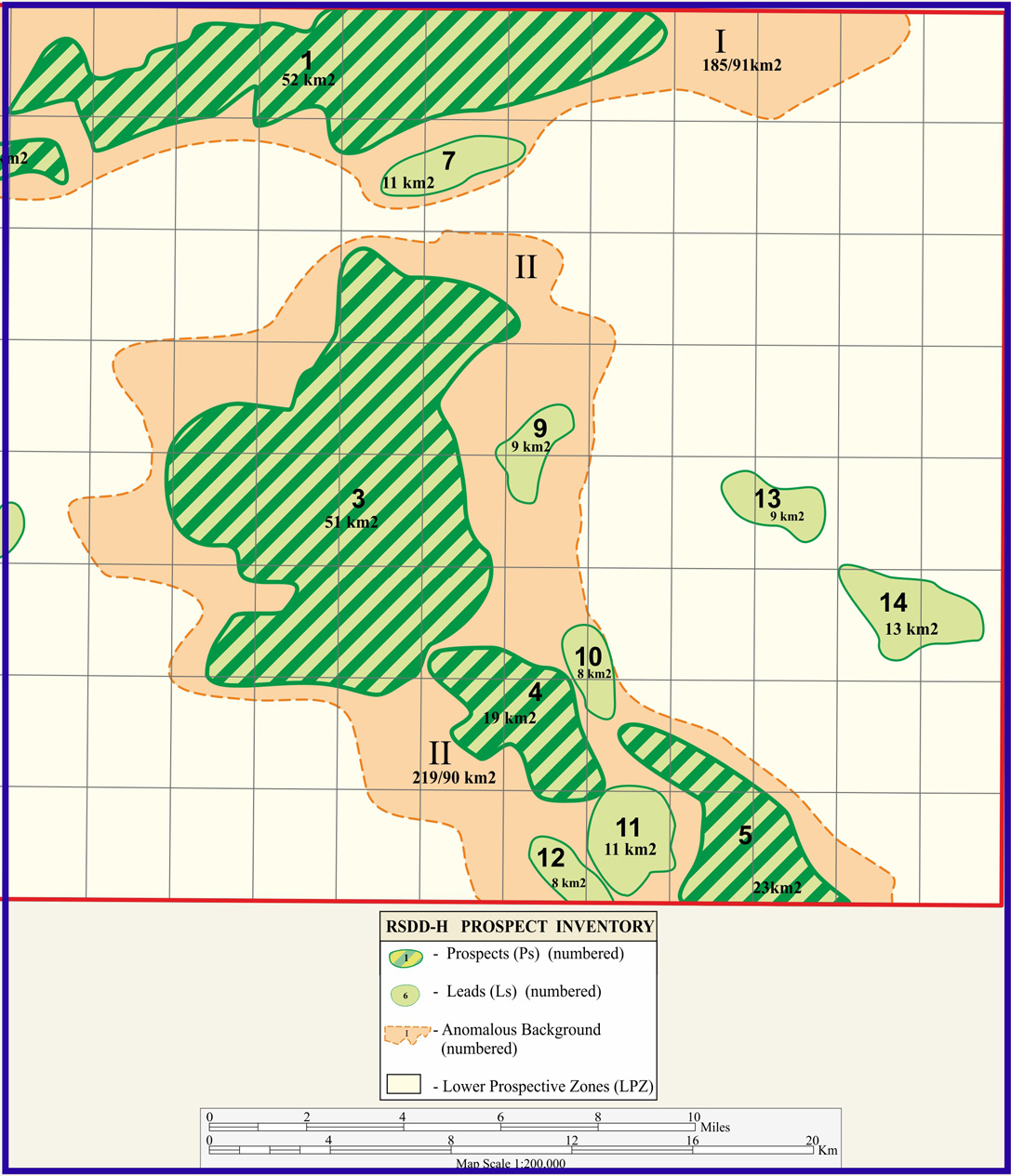 Example of Prospect Inventory Map 
Scotforth has surveyed extensively in this way for many clients ranging from small private "Juniors" to "Multi-Nationals", in more than fifteen countries, including inter alia: 
USA - Alaska
USA - Lower 48:  Utah, Wyoming, Alabama, Mississippi
Canada
Colombia
Peru
Argentina
Paraguay
Italy
Spain
Montenegro
Romania
Sweden
Tunisia
Tanzania
Namibia
Zambia
Iraq / Kurdistan
Yemen.
b) Client Prospect Evaluation Reports:
Designed to significantly revise the pre-existing exploration risk or Probability of Discovery of a client's conventional prospect inventory.
At any particular point in a client's lease / acreage / conventional prospect development status the stand-alone contribution of a prospect or field-focused DHM prospectivity survey can be timely and effective. These DHM insights are a valuable adjunct to conventionally developed ("CLI") exploration prospects / prospect inventory where it appears that the "Irreducible Exploration Risk Barrier" has been reached, when in reality it has not.
These prospect-targeted surveys test whether or not the pre-defined conventional prospects have affirming HLI anomalous response and if so, over what areal extent and with what quality. Using Scotforth's exploration risk modelling these surveys can revise the pre-existing exploration risk or Probability of Discovery (PD) as well as adding new information of areal extent which can significantly revise (or affirm) the client's petroleum resource potential estimates (PRP). In turn, these can impact the exploration decision process on leasing, progression and/or drilling of the conventional features. In many cases the results can provide explicit guidance as to the choice of optimal well locations.
Importantly, the results of these reports may impact materially the risked PRP of a prospect, its related pre-drill gross risked NPV10 and its suitability for drilling / further investment.