SFL's Global Prospect Portfolio
Scotforth has built a stunning, unique inventory of identified high impact, low risk DHM prospects and petroleum resource development opportunities world-wide in more than 250 onshore basins. These locate in both frontier and proven hydrocarbon habitats.
This portfolio results from dedicated, sole risk R&D exploration surveying by the principals of Scotforth over the past 20 years in constant pursuit of ever more effective detection of hydrocarbon traps in multiple geological, geomorphological and ecological habitats.    
The resultant portfolio of targeted opportunities is both deep and wide in its reach. By discussion and design it can deliver leading competitive positions in any desired market or petroleum asset target district, through either organic and/or acquisition led positioning tactics.
Typically for any such hydrocarbon focus areas ("HFAs") Scotforth compiles a bespoke target portfolio of high ranking, specific oil and gas ventures that will include mapped prospects with internally modelled credentials of size and risk. This is presented as assessed features with;
-       locations
-       areal extent
-       unrisked and risked petroleum resource expectations
-       leasing / entry possibilities.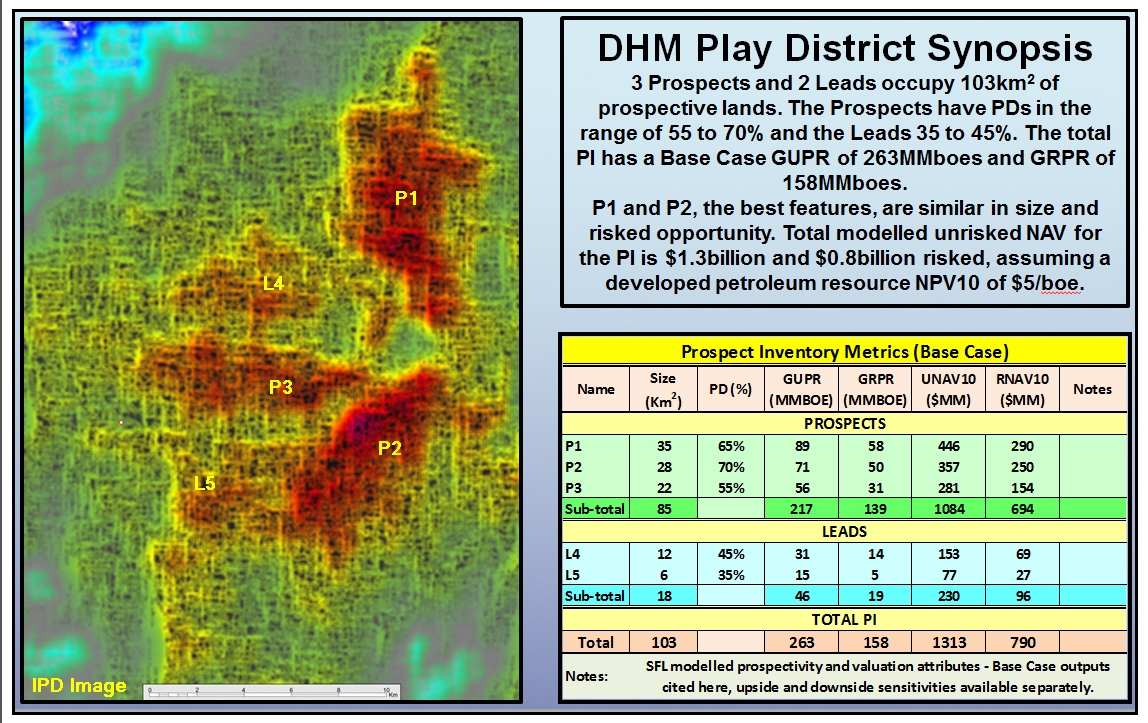 Portfolios can be highly focused to specific play fairways and/or to different petroleum play categories ranging from large field targets through to single well, quick pay out smaller petroleum resource prospect sets.  All targets are selected for their DHM predicted high discovery probabilities and their high risked to unrisked petroleum resource potential compared to historic conventional industry performance metrics.
This strategic utilisation of DHM for progressive business development and E&P investment can create highly leveraged early commercial success. By example, it allows early incisive pursuit of new discovery districts before the wider competition becomes aware of the full nature of the district's petroleum resource potential and where it locates geographically and in PNG lease tenure terms.
Increasingly, Scotforth is designing and investing in these opportunity sets in strategic alliance with suitable capital providers and local operators. These relationships are proving successful for Scotforth and its growing list of allies.
Additional alliances are developing apace and Scotforth foresees this as a highly effective business approach for all involved.  An opening design for a new alliance portfolio will normally contain a minimum of 3 initial preferred target areas with preferential commercial arrangements for Scotforth's allies in subsequent growth options / electives.
We are ready to discuss and arrange new alliances, in many parts of the world, while we continue to strengthen our existing alliance positions in countries such as the USA.  Latin American, Australian, MENA and East African opportunity sets also beckon.
Contact us via This email address is being protected from spambots. You need JavaScript enabled to view it.